Taiwan invention patent No .: I596020
Taiwan new model patent No .: M533584
United States patent No .: US10,343,445 B2
TIJ Titanium Click Pen M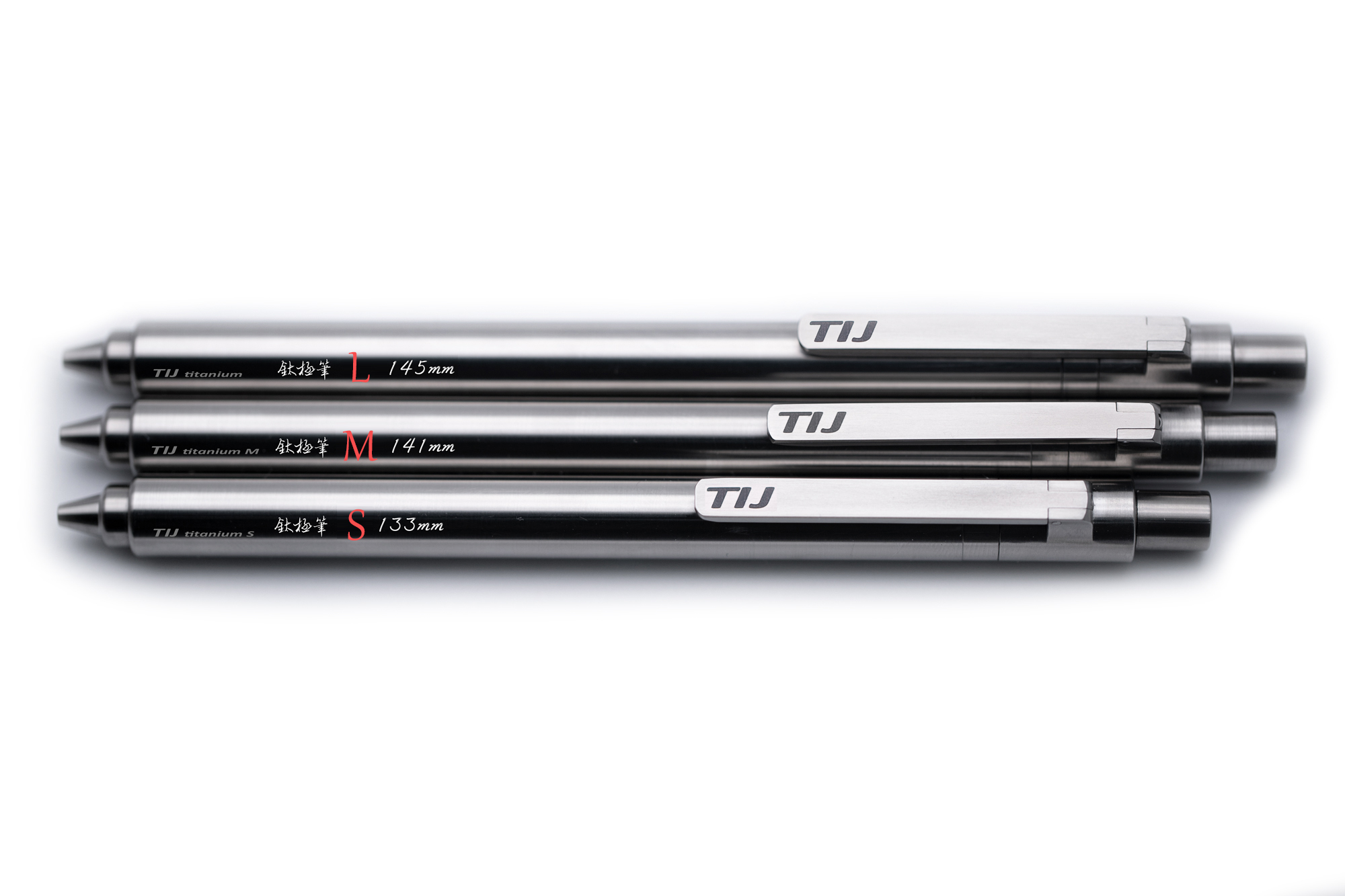 TIJ Titanium Click Pen M refill list
Ranging from 94 to 111mm in length and 5.5 to 6.2mm in thickness.

TIJ Titanium Click Pen M main features
Escaping the restraints of refills: You can transform the pen's functionality through changing the refill such as to an automatic pencil, ball pens or gel pens. Simply by changing the various refills to suit your liking, feeling and purposes.
Support for hundreds of refills: Use refill range thickness between 5.5MM ~ 6.2MM. Choose Baile, Mitsubishi, Montblanc, Parker, MUJI, SCHMIDT ... more than hundreds of commercially available refills, or even new future refills can be used if the size meet the requirements.

Front and rear clips keep refill fixed: All refills are tightly secured to the pen tip, when writing enjoy the unprecedented precision.

All components made from titanium: No need for maintenance and long-lasting preservation, internal and external when stored will not have patina (Greenish copper look), rust, nor will it cause skin allergies.

All parts are unibody: Free from extrusion method, thread lock or physical tenon fixed connections, cracking free during long-term storage.

Sole Design and manufacturing: Design concepts can be fully materialized to the actual product and continue to develop the evolution of peripheral products.
TIJ Titanium Click Pen M content
TIJ Titanium Click Pen M   x 1

Small Titanium tool x 1

Small hardcover Giftbox x 1

Japan ZEBRA 0.5MM gel ballpoint pen X 1
Why choose titanium?
Titanium is an element that is widely used in the high-tech industry and its super high strength is twice as much as aluminum, but only weighs half the weight of steel. Its powerful anti-corrosion effect is almost equivalent to that of "platinum", which may be completely free from corrosive effects of diluted sulfuric acid, diluted hydrochloric acid, chlorine, chlorine solution and most of organic acid. Additionally, due to the superior mechanical properties of titanium, we decided to use it as the main body structure for the TIJ ™ Titanium Pen and with a good structure the majority of functionality may be achieved one by one.
World
P
ioneer
-
E
xclusive design
ZeroGap
-
Z
ero gap structure (United States invention patent)
Try shaking your current standard metallic pen and normally you will find that the refill and the front edge of the pen towards the tip will have gaps due to differences in size. These gaps greatly impact writing since when writing every stroke, it should be at the precise position.
However, if there is a gap between the refill, you may need to correct each position as you write. It may be fine to write for a word or two but the longer you write the more tired you get. Additionally, it is not easy to write neatly, therefore the perfect way Is for the cartridge to be closer to the pen tip.
The TIJ ™ Titanium Pen ZeroGap structure caters for all different kinds of refills types and when the pen tip extrudes it closely fits and does not wobble or shake to help you regain the joy of writing.

▲ Standard pens the refill simply extrudes through the pen directly, however, TIJ ™ Titanium Pen the collar of the tip bugs the sloped sides of the cone tip, and constant pressure is applied through a spring in the knocker to prevent tip wobble.

▲ Breaking the traditional stacked wood pen making method, switching to a comprehensive computer-assisted design analysis to identify the most compact physical configuration in order to create a precise writing experience.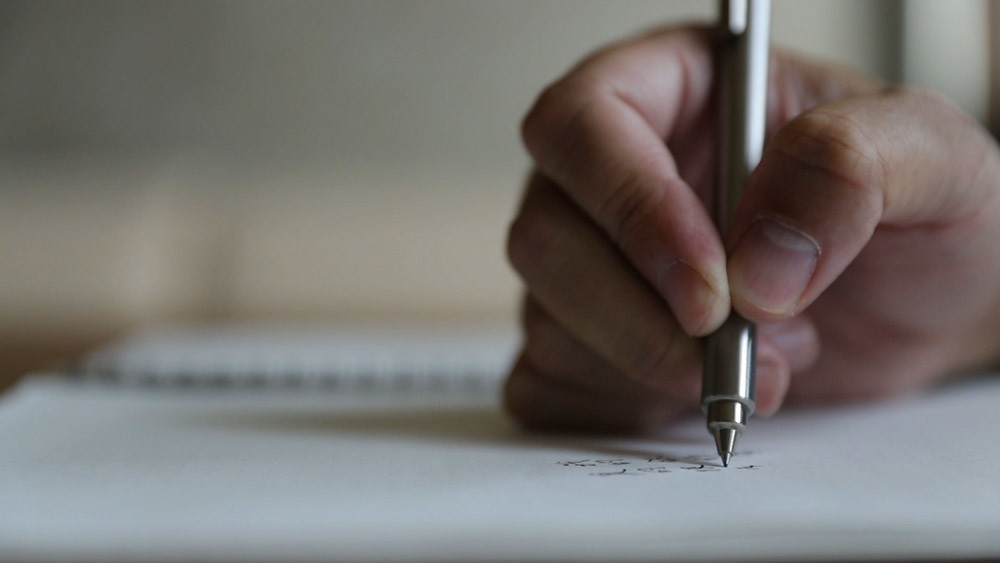 ▲ Writing with ease is a trait a pen should have and when the nib is fixed at the tip writing becomes easy and more direct.
ForceAdjustment strength adjustment structure (United States invention patent)
We add a spring capable of 500g compressive force between the refills and the barrel. In addition, it allows the refill to have a collapsible compact space, protecting the refill if the pen is dropped accidently.
Furthermore, when writing on a standard pen with too much force normally it will shorten the life of the refills. The ForceAdjustment structure allows the refill to remain the same smoothness for the duration of its life-span, overcoming the excessive force when writing thus alleviating the issue of shorten life-span.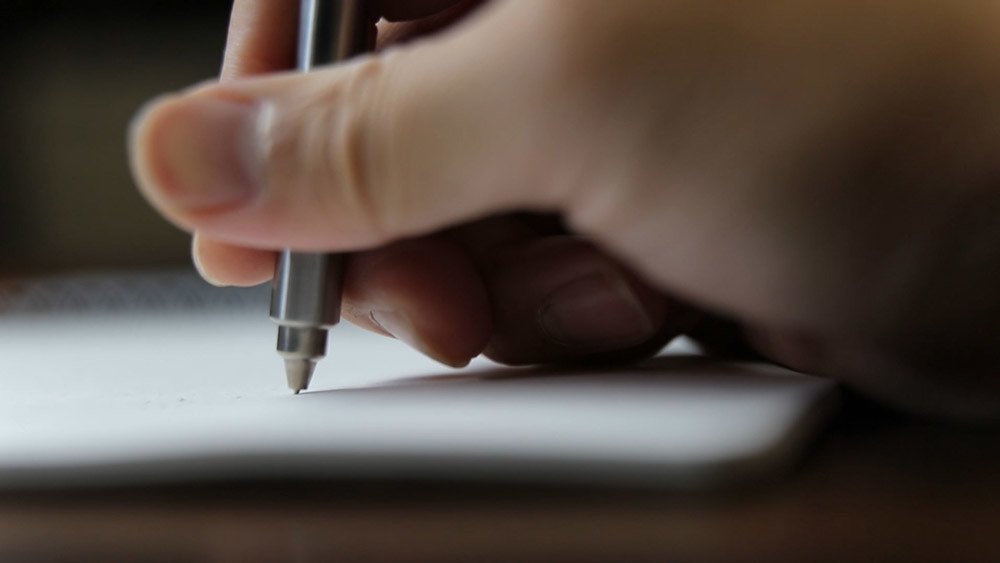 ▲ Solve the refill unusable before its end of life issue.
NoSpring & QuietMechanism - Spring sound free (United States invention patent)
The new design of the spring sound free system allows easy replacement of refills. In the past automatic pens need to add a spring in front of the refill and whenever you want to change the refill, it seems to always be the first component to easily go missing.
Additionally, when replacing the refill, it often seems to be trapped between the spring and the pen barrel. Standard automatic pens when pressed will have a clicking sound and in important situations it can easily become a distraction and the focal point of public attention. Therefore, we redesigned the core structure to move the spring inside the drive, integrated the refill with zero gaps for a variety of refills thus we developed a world pioneered all titanium 3D multi-functional silent QuietMechanism.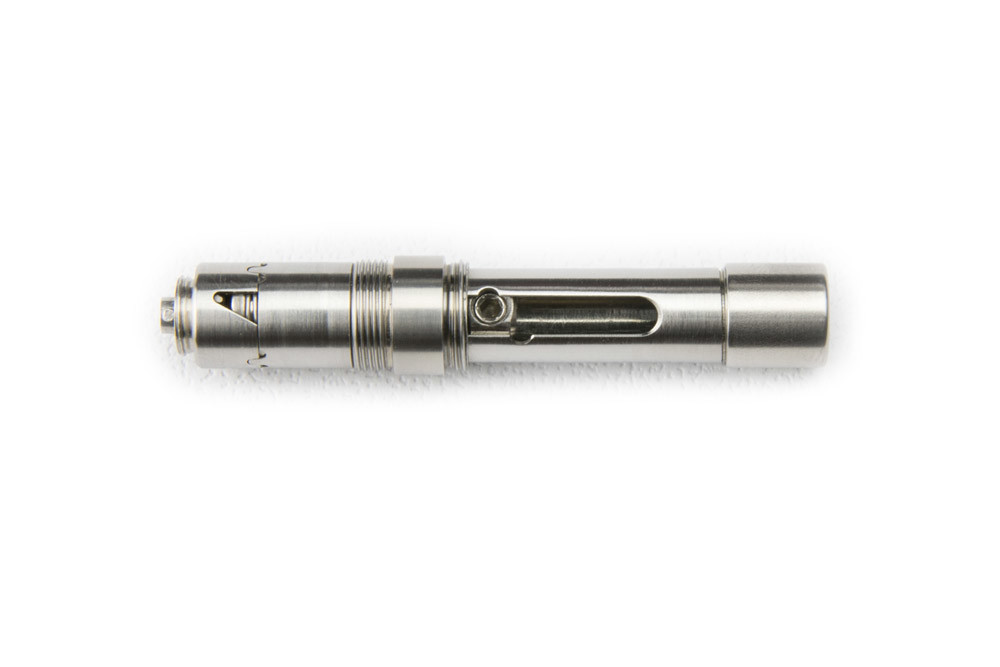 ▲ The new design five layers 3D structure plus an internal double spring drive.
Multi Kinds of Refills Multi-type refills (United States invention patents)
There are many types of refills on the market, the specification is not standardized and often when buying a pen, the refill immediately becomes unique. Sometimes refills are very difficult to buy, or it is too expensive and buying a few refills it is already the price of a new pen.  
The TIJ ™ Titanium Pen is smooth to write and refills are easily found, you can easily purchase refills at any stationery, write without fear of availability. You can buy different types of refills, occasionally interexchange the refills for a change of feeling. Additionally, making sure that the refill length and thickness is within the specified range, whether it is a gel pen, ballpoint pen, ballpoint pen or automatic pencil refill all can used, and the tip of each refill will not shake or wobble.

▲ Refills use our patented structure to remain fixed between the front and rear compartments in red and if the length is in the range, future refills can also be loaded.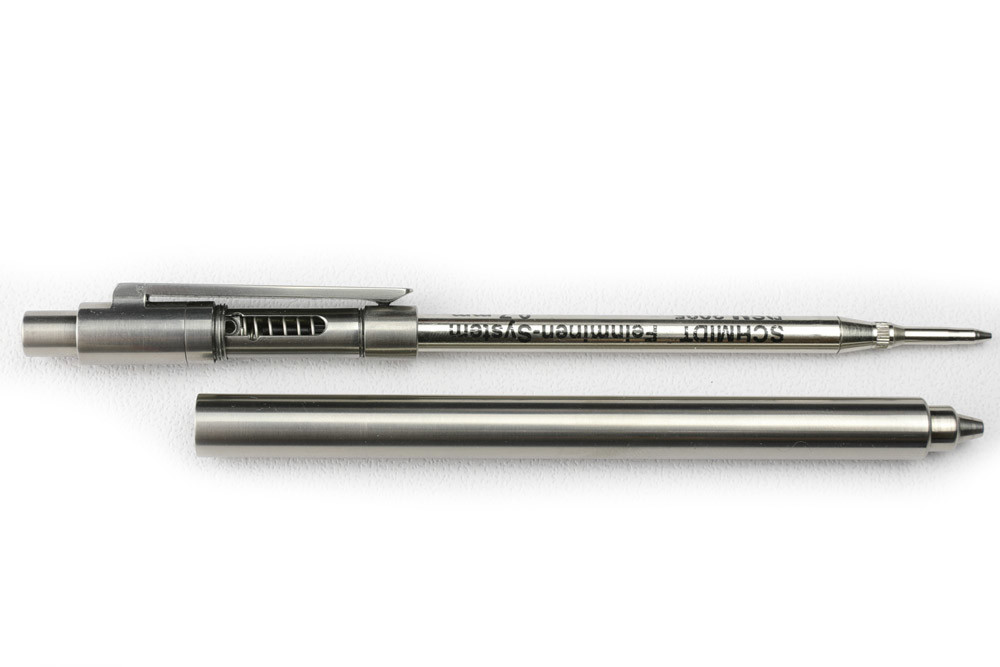 ▲ fitted with German-made automatic pencil refill, instantly transform into the most advanced automatic pencil.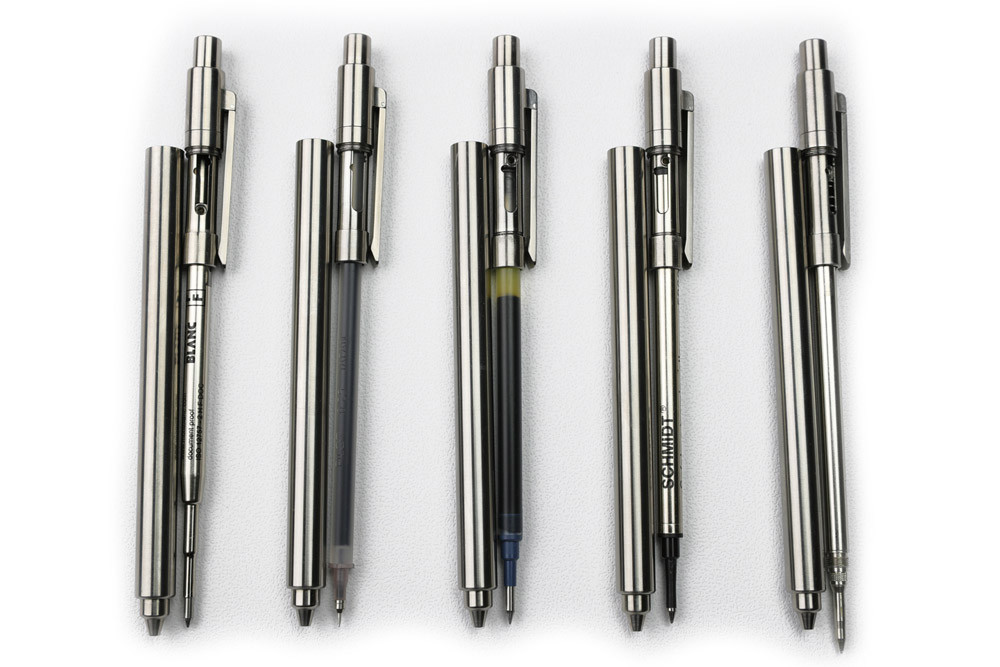 ▲ a variety of refill options, easy to suit your own personal writing quality.
Appearance Crafts - Fusion of Traditional and Modern Technology
We chose the most rare and expensive one-piece CNC milling process for production and this makes The TIJ ™ Titanium Pen more durable, even after long use the issue of shaking or wobble effect will not occur. The same production process is also used for the one-piece structure of the clips via CNC milling production, coupled with the mechanical structure of the spring has a detail workmanship throughout.
The end of the pen we used a rare 3D embossed method to engrave our logo highlighting an extraordinary mechanical structure and sketching outlines of the overall shape.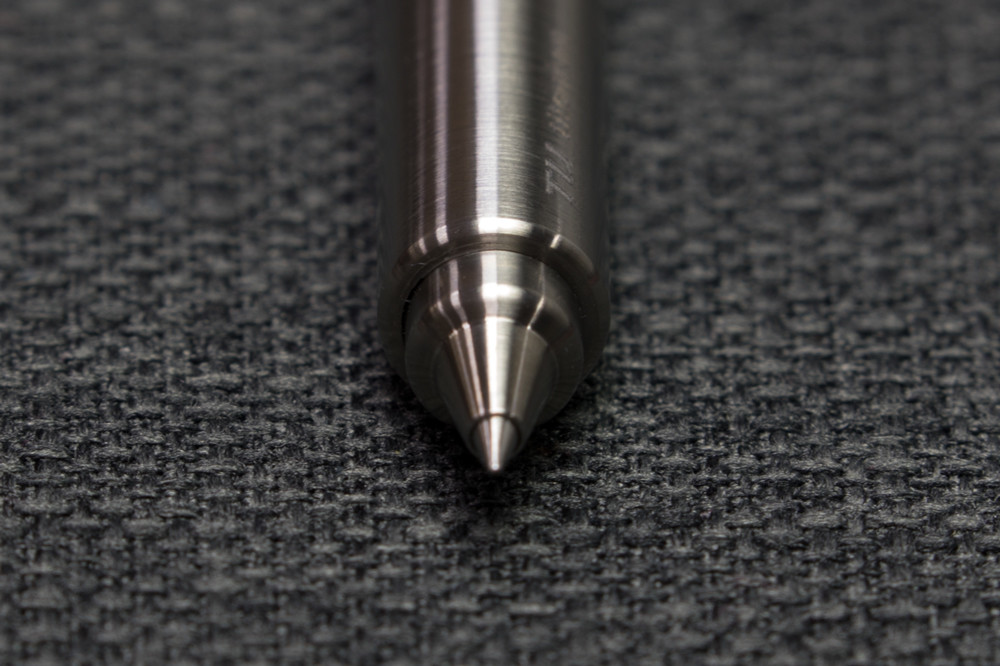 ▲ refill is tightly covered and will not shake around.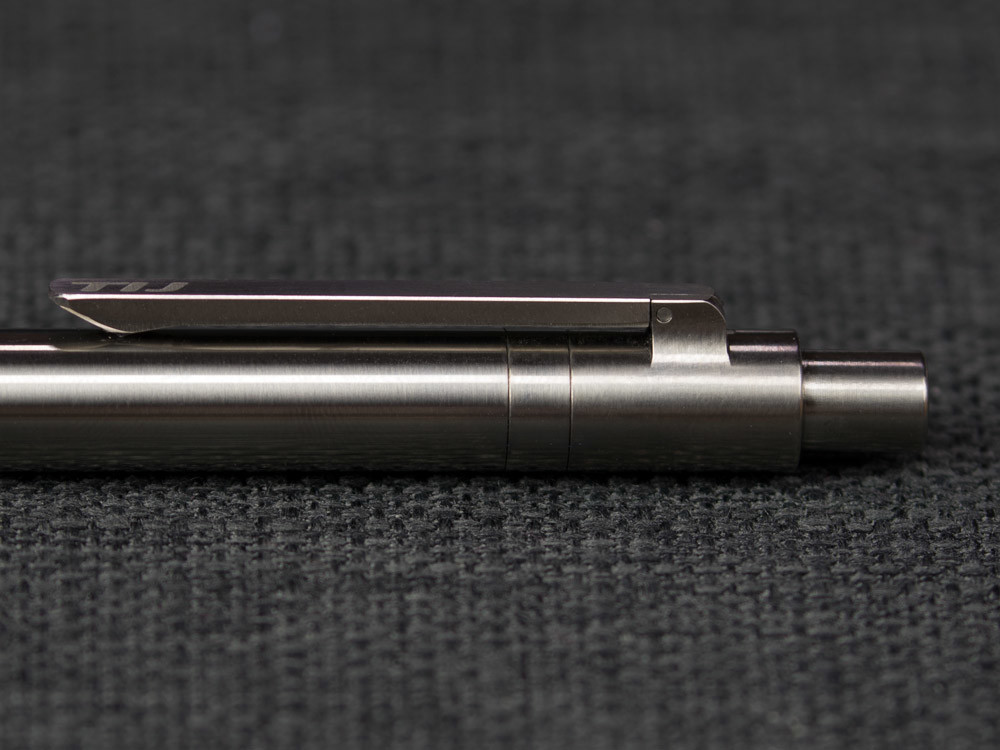 ▲ Very rare one-piece pen clip.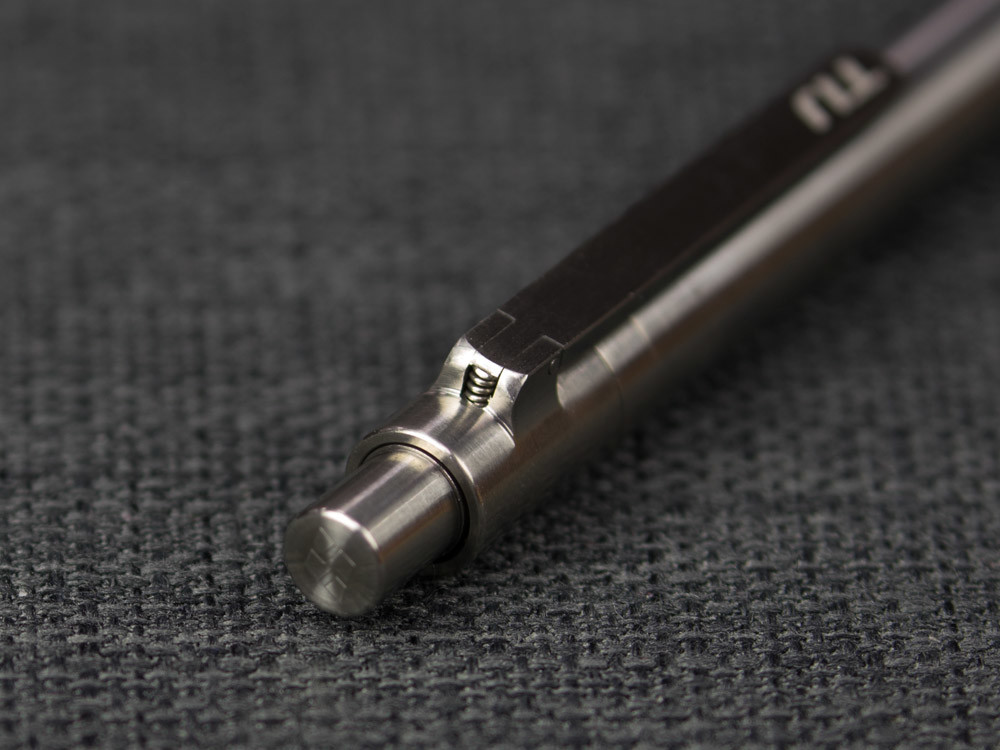 ▲ Looking from the back there is a very strong mechanical structure appearance, which is the angle we see daily of the TIJ ™ Titanium Pen.
Holding a TIJ ™ Titanium Pen writing is very comfortable, you will not feel any seams obstructing your hand. The entire surface of the pen has very fine titanium lines without any plating layering or paint post treatment therefore when holding it is not slippery.
The simpler the lines the more difficult it is to produce and for the lines to be simple, the internal structure needs be complex. The barrel length being 109mm, making it very difficult to produce, especially with capability of 1:1 weight ratio making it easy write.
▲The TIJ ™ Titanium Pen engraved version ™ is like a German-made import cars, its solid, precise, sophisticated texture of the pen barrel has a premium feel in the hand.
▲ Through high-temperature color burning, the all titanium transforms into a gorgeous multi-color gradient TIJ ™ Titanium Pen.
Titanium has acid and alkali resistance, it does not rust, non-toxic to touch, non-allergenic which makes it the best material for carrying. The TIJ ™ Titanium Pen components are made of all titanium, it is light weight, only 19.9 grams and suitable for prolonged use.
The most durable surface treatment is by using metal material in its primitive form and the entire pen built from the titanium rod. Regardless of wear and tear it is remains as titanium, scratches can be restored by using very fine sandpaper to restore its originality.
Furthermore, due to the characteristics of titanium, the TIJ ™ Titanium Pen will not feel cold to the touch and will be a warm in your hand.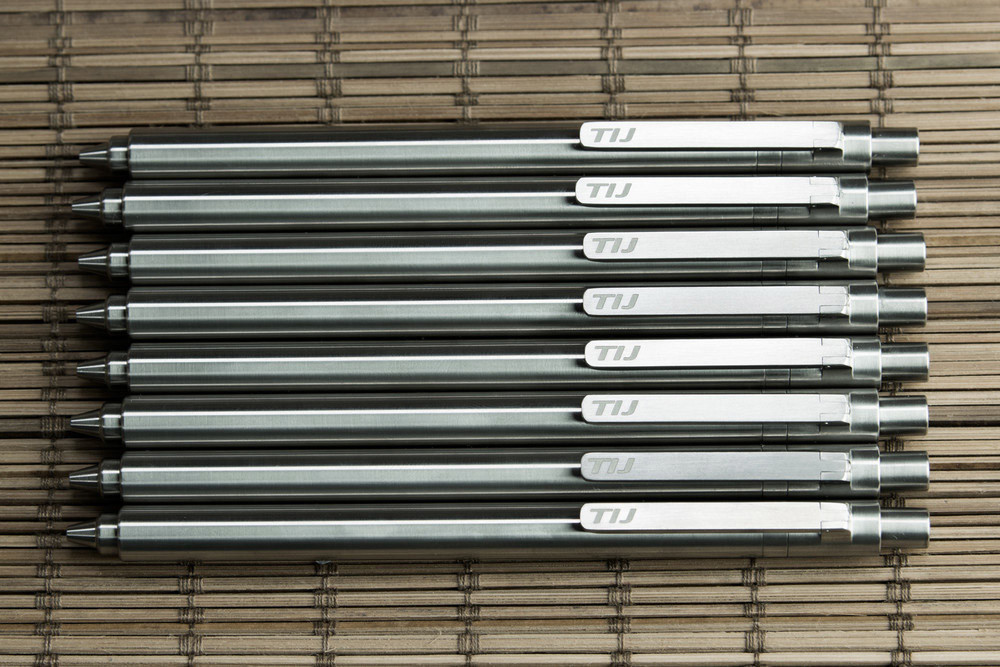 ▲ No painting, electroplating, it is the most natural and safest material to use in its primitive form.
Eternal precious gift
Titanium can be kept forever, with a loved one, each one a TIJ ™ Titanium Pen, a symbol of love will not deteriorate over time. No longer will you need to worry after giving this gift that they will not use it because the refill doesn't feel right for them. They can find a suitable refill for their needs and a gift that may be used daily is the best and most precious gift.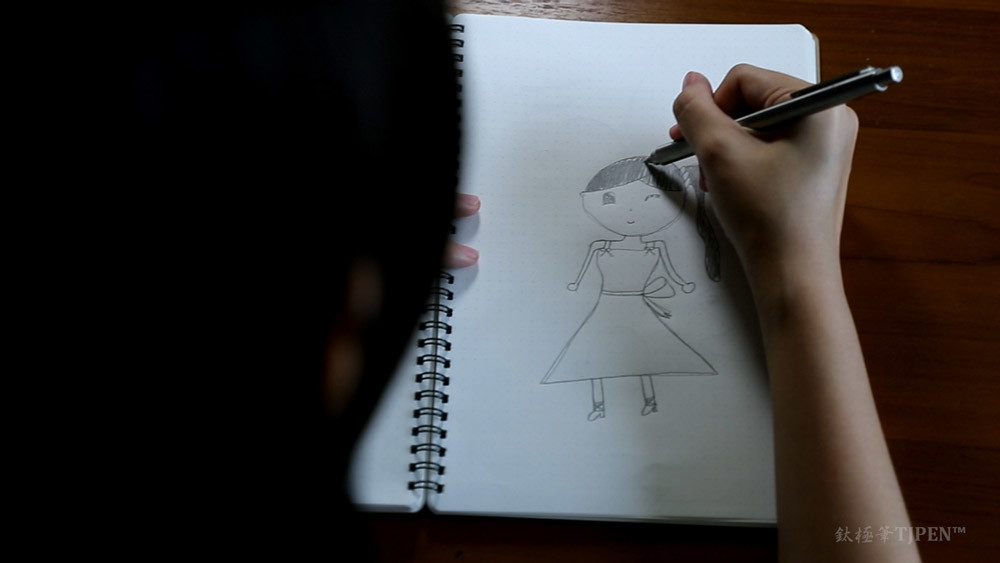 ▲ Change to an automatic lead pencil, happy sketching.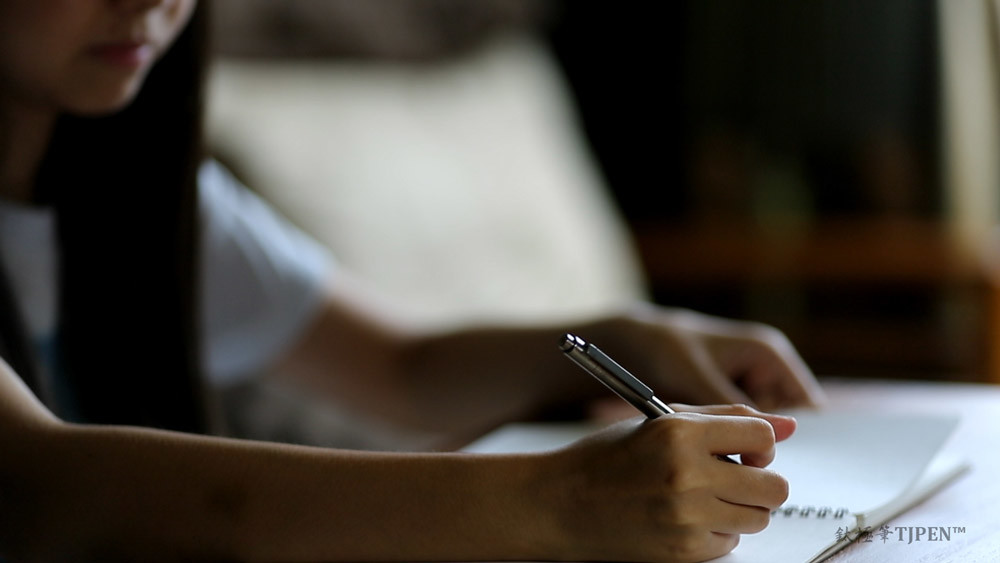 ▲ Change to a gel pen, strive at taking notes.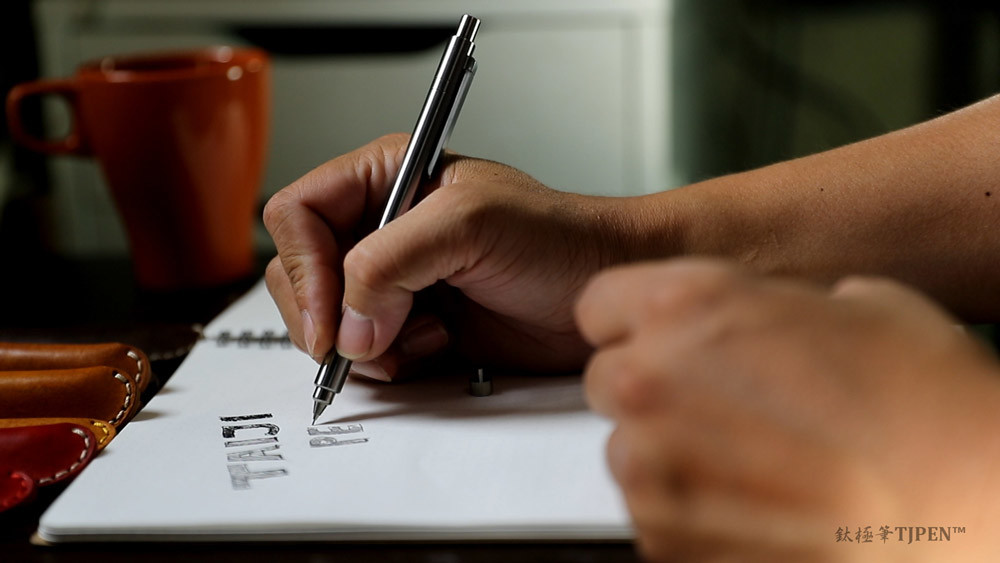 ▲ Draw ideas, write creatively in a calm tranquil mindset.
Thank you for everyone's support, the dream of "Letting everyone write with ease" was finally realized
TIJ ™ Titanium Pen project conceived for many years, after a year of development, sampling, over the course of time we asked a considerable number of users, collected a wide range of feedback and after numerous failed attempts it finally realized.
A perfect pen which can use automatic lead pencils, most refills and the first pen to improve the feel for writing was born.
Writing alone with a pen when its quiet, holding a carefully designed TIJ ™ Titanium Pen, you will feel the harmony of the pen in your fingers feeling the dialogue between paper and refill.
Every stroke you can feel the difference and experience the joy of writing compared to holding a pen in the past.
TIJ ™ Titanium Pen can last you a lifetime, you can write with all kinds of refills.
I hope like us, you like to write with a TIJ ™ Titanium Pen, take one home today!
Packaging
Outer packaging uses an advanced thickness art paper with artificial leather side opening to show the extraordinary contrast of the TIJ ™ Titanium Pen, the outer box has a simple glossy black and silver color stamp finish, whether for a gift or collection it is the ultimate choice.
TIJ Titanium Click Pen M Specifications
Pen size: length 133 mm x diameter Ø 9.7 mm

Weight: 21 g

Material: Ti-6Al-4V titanium alloy / 304 stainless steel spring

Surface treatment: polishing, grinding

Color: Eternal Titanium

Packaging: hardcover box

Warranty: 1 years lifetime warranty for repairs and limited warranty on parts.

Made in: Taiwan